The Highest Quality Meats
Prepared With Our Patented Blend of Seasonings, and Smoked Over a Pure Hickory Fire
The New Conecuh Sausage Gift Shop is now open!
We've got all your Conecuh Sausage, Bacon, Franks, Hams and Turkeys ready for you and many other items!
Normal gift shop hours are from 7am to 5pm, Monday thru Saturday. We are closed on Sunday. Call us if you have questions at 800-726-0507. We look forward to greeting you soon!
Since 1947, the Sessions family has been smoking their Conecuh pork sausage over a hickory fire in Evergreen, Alabama. Though the family's original sausage recipe is still used to this day, they now have six varieties of sausage, including Cajun, Spicy & Hot, and All-Natural Hickory Smoked Sausage with no MSG or added nitrates.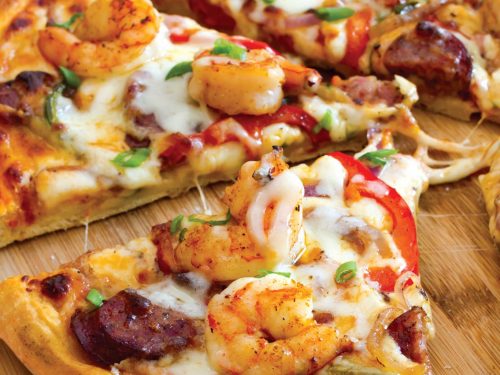 You won't find sausage and shrimp pizza at most pizza joints but you'll wish you could after trying this creation. Conecuh Sausage and Shrimp Pizza is a great way to mix your love of pizza with Cajun flavors.